Special Events  & News
  Shout it from the roof tops... complimentary consultations for laser hair removal, laser tattoo removal and don't forget on Wednesday, 1-31-18 from 9 til 1 we are offering complimentary Bellafill consultations.  Watch for new information coming soon on all the latest technology coming your way.  Also with new lasers comes new Introductory pricing, faster procedures and better results!  We are excited!
Good News!  Our Bellafill Event has been rescheduled to Wednesday, January 31, 2018 from 9 to 2pm.  Please call to schedule your complimentary consultation as spaces are limited.  Purchase 3 Bellafill and receive 1 complimentary plus additional discounts for same day procedure.  Refreshments will be served.  This special expires 1-31-18.  Please come and join us, call (251) 344-0044 Today!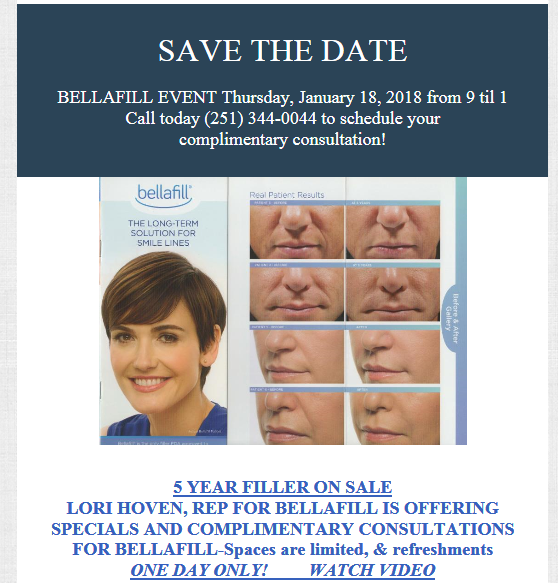 Thursday, January 18, 2018 from 9 til 1pm  Lori Hoven, Rep from BELLAFILL will be hosting complimentary cosmetic consultations and offering limited Special Pricing.  Call TODAY to schedule your complimentary consultation.  Be sure to check out our Bellafill video under the video section for additional information.  Call (251) 344-0044 and see what BELLAFILL can do for you!  Refreshments will be served and if you decide to have the procedure the same day you will receive an additional $50.00 discount.  Limited quantities and certain restrictions apply.  Don't miss this exciting event!
Due to inclement weather expected on Wednesday, 1-17-18 our Office will be closed until Thursday,1-18-18 and will re-open at 8 am.
Also the Bellafill event scheduled for Thursday 1-18-18 was cancelled and will be rescheduled at a later date due to weather conditions.  

Everyone be careful and stay warm!  Hope to see you all soon!

You are invited to our 10th Annual Diva, Dine & Dash Day Wednesday 12-6-17 from 9 til 5 pm -Great Holiday Specials
Last week we celebrated our 10th annual "Diva, Dine and Dash" event where we discount fillers, Botox, consmeceuticals, and spa treatments for the Christmas Holidays.  If you haven't checked our website for our specials, you may be pleasantly surprised to find a few of your favorite "Touch Ups" on sale.  As a Facial Plastic Cosmetic Surgeon, I was wonderfully enlightened recently by another physician giving a few of us advanced training on Vollure .  This product is fairly new to the Allergan Family of Hyaluronic Acid Fillers.  Its advantages include lip plumping with dramatic tissue integration.  This quality allows it to functionally support and safely enlarge the lips and commissures (parenthesis).  This reduces the "Perma Frown" or "Puppet Look" and the product lasts over 1.5 years.  We were also enlightened to see dramatic changes when the Kybella (fat dissolving injectable) was performed on another patient.  This was the patient's second injection..and "wow" what a transition she was already experiencing.  See photos below.  She had a noticeable reduction (greater than 40%) of her submental Fat Pad under her chin.    There can be bruising, which usually fades in 7 to 10 days & possible slight swelling.  Patient reported people thought that she had lost weight and looked more rested.  Correction for a double chin is obtainable without surgery.  
While I was at this meeting, we discussed current trends in Laser Liposuction of the face and body.  Some of the physicians like to use fat to transfer to the face as a filler to reverse the signs of aging, still others liked the thicker product known as Voluma .  This is another Allergan Product (same company that makes Botox ) , and Voluma's advantage is that it lasts 2 years and is firm and supportive enough to lift the cheeks, jowls, and nasolabial folds (parentheses lines). Voluma has also been used to perform non-surgical Rhinoplasty (nasal reshaping) procedures.  Finally a product called Bellafill was discussed.  This is a 5 year filler which induces the patient's own collagen.  It is used in the cheeks, temples, pre-jowl, chin and brow.  The techniques presented displayed alternatives to a Facelift procedure, with revolumizing the mid face, one sees a very dramatic lifting, fullness, and gravity defying effect.  Be sure to check our the videos and additional photos for each product. These procedures along with PDO Threadlifting (aka Rejuva Lift) are ways to postpone the need for a Facelift.  Selecting the correct product for the right area is important and experiece is key to placement to obtain the desired appearance!  
Watch for periodic updates, MIchael B. Lyons, M.D.
​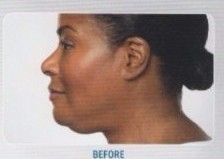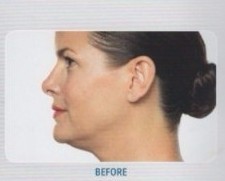 Kybella

     Non-Surgical
    injections for
     double chins
        ON SALE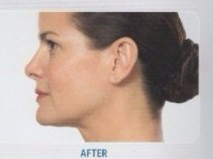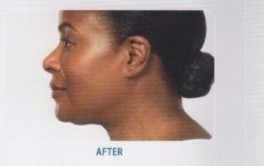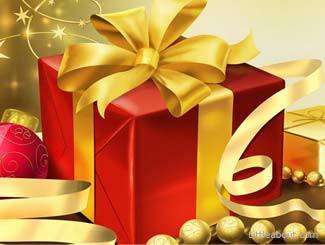 Enter our drawing for our free year celebration with every $100.00 you get an entry into the drawing to be held 12-20-17 at 12 noon.
   WATCH FOR OUR ONE DAY SALE SPECIALS & LOWEST PRICES OF THE YEAR!
* LATISSE PAY $149.00*  QUANTITIES ARE LIMITED TO THE FIRST 24 REBATES

          AFTER THE SALE PRICE $169.00 & $20.00 INSTANT REBATE FROM BRILLIANT DISTINCITON REWARDS

              THIS ONE DAY ONLY  EVENT.. STOCK UP ON INDIVIDUAL PRODUCTS, KITS  INCLUDING RETIN A

​  

*
$500.00 DISCOUNT ON DUAL LASER LIPOSCULPTING.  FIRST TIME TO OFFER THIS DISCOUNT
  This outpatient procedure offers minimal downtime, no stitches, no drains and body sculpting      
               changes YOUR SHAPE & SIZE!   You are slimmer in one week.  Start the New Year with a New Look! 
* PURCHASE ANY ALLERGAN FILLER, JUVEDERM, VOLUMA, VOLBELLA, OR VOLLURE, ALONG WITH 30 UNITS OF
               BOTOX AND RECEIVE 10 UNITS OF BOTOX COMPLIMENTARY.  ALL FILLERS ARE ON SALE PLUS BOTOX
IS $10.00 PER UNIT WITH A MINIMUM OF 20 UNITS.
* IT'S THAT TIME OF YEAR AGAIN.   GIVE A GIFT & KEEP A GIFT FOR YOURSELF.  PURCHASE 2 FOR $75.00          
 DIAMOND TIP MICRODERMABRASION & FACIALS OR DERMAPLANNING & FACIALS.
* CLINICIANS LIP PLUMPER $35.00
IT WORKS!
 IT'S A GREAT  STOCKING STUFFER & LOWEST PRICE EVER
*BELLAFILL  5 YEAR FILLER PURCHASE 3 ON SALE AND RECEIVE 1 COMPLIMENTARY.  CALL FOR DETAILS.
MUST USE BY 1-31-18                            Quantities are limited, first come basis, certain restricitons apply.
CALL (251) 344-0044 FOR DETAILS & TO SCHEDULE.  
IF YOU CAN'T MAKE IT IN, THEN PHONE & WE CAN ASSIST YOU.  
GIFT CERTIFICATES ARE AVAILABLE.